Peterborough Lift Lock
World's Highest Hydraulic Lift Lock

One approach to the Peterborough Lift Lock on the Trent Canal in eastern Ontario is by road down a characteristic glacial hill known as a drumlin. Suddenly the world-famous lock appears – ominous and foreboding – and the road ends at a mass of concrete. This monumental structure is a symbol of advanced technological solutions in an era when steel and concrete shaped the new dimensions of progress. Like the larger celebrations of technology represented by London's Crystal Palace in 1851 or the Chicago World's Fair of 1893, the Peterborough Lift Lock was another example of problem solving by means of contemporary applications of new technology.
When the challenging engineering project was completed and officially opened on July 9, 1904, as viewed here, the Peterborough Lift Lock had the capacity to raise or lower a water vessel 70 feet making it the largest hydraulic lift lock in the world even to this day. [Photo, courtesy Charles J. Humber Collection]

The first hydraulic balance lock built by Edwin Clark in 1874 at Anderton, on the River Weaver, in Cheshire, England, was followed by similar locks built in Belgium and France. Engineer Frank Turner recommended such locks for the ill-fated Huron and Ontario ship canal in 1879 and raised the notion again as a member of the Trent Valley Canal Commission. The challenge at Peterborough was to create a device for lifting a vessel from one level to another without wasting water and with one efficient mechanical lock replacing a bottleneck series of standard locks that resembled giant steps.

Richard B. Rogers, as superintendent of the Trent Canal, latched on to the hydraulic lock concept and greatly expanded its possibilities, suggesting that a hydraulic lock could raise or lower a vessel 70 feet in the same time as a typical lock could raise or lower one a mere 7 feet. He figured such a lock would reduce construction costs, alleviate concerns over water supply on the canal, and be more efficient. Rogers actually designed the lock before he travelled to Belgium and France to see how existing models worked.

Behind the scenes, the Peterborough Lift Lock story is one of intrigue and political manipulation. The hydraulic lock was approved in 1896 by an anxious government that feared defeat at the polls, and contractors signed deals to build the lock without actually seeing the specifications. The rushed deal did not save the government and Richard Rogers, as a practical civil servant who feared for his job as a result of lost government patronage, released portions of his design only when necessary. Having made himself indispensable, Rogers protected his own interests at the expense of contractors and government who haggled over unexpected expenses.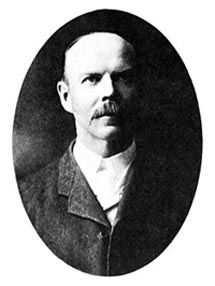 A civil and mechanical engineer from McGill University, the visionary R.B. Rogers oversaw the construction of the world-famous Peterborough, Ontario, Hydraulic Lift Lock. [Photo, courtesy Friends of the Trent-Severn Waterway]

Contractors Corry and Laverdure of Peterborough, responsible for the concrete and the embankments, and the Dominion Bridge Company of Montreal, responsible for the design of the mechanical systems, were challenged by the sheer magnitude of the project and the innovations that it required. Rogers himself experimented with the new technology of cement mixing, recommending a dry mix he actually developed in the basement of the Trent Canal office. It was an extraordinary risk that made Rogers an international celebrity among engineers designing new uses for cement.

Opening day for the lift lock was one of the most dazzling celebrations in Canadian history. Thousands of citizens came to Peterborough on July 9, 1904, to witness the spectacle. In the words of historian James T. Angus, "From this day onwards every schoolchild in Canada would know about Peterborough, with its 'highest lift lock' in the world."

Richard Rogers did not witness the opening of the smaller but similar lift lock at Kirkfield between Balsam Lake and Lake Simcoe at the summit of the Trent-Severn Canal (49ft or 14.9m lift compared to Peterborough's 65ft or 19.8m lift). As Rogers had feared, the government had replaced him a year before its opening in 1907.

The Peterborough Lift Lock was a triumph of engineering over the challenges of land and geography. Along with other emerging hydroelectric stations, it is a monument to the ingenuity of Canadian engineers, architects, and construction workers in the transformation of landscapes for human efficiency.

Larry Turner