Home > The Storytellers > First Nations Storytellers > Allen Jacob
Our Storytellers: First Nations Storytellers | Métis Storytellers | Inuit Storytellers
Allen Jacob's Biography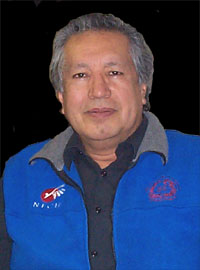 Allen is Dène from Cold Lake First Nation. He shares with us what he has learned growing up in the times of his generation. As well, he shares some truths of First Nations history, as he knows it to be.
Allen's Stories
The following is a list of Allen's stories and a short description.
1
A Message For Youth
Allen talks about our stories and how it is important to tell our own version of history as Aboriginal people.
2
A Loss Of Culture
Allen talks about his search to discover his own culture.
3
The Importance Of Education And History
Allen talks about the tragedy of First Contact in 1492 and how Aboriginal people gave the world the gift of modern democracy.