Home > The Storytellers > First Nations Storytellers > Darlene Auger
Our Storytellers: First Nations Storytellers | Métis Storytellers | Inuit Storytellers
Darlene Auger's Biography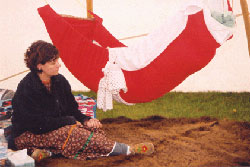 Darlene is Cree, originally from a small northern community, called Wabasca, in Alberta. Darlene is actively involved in her culture and traditions. She shares with us a vision that she had at one early morning pipe ceremony.
By following this vision and making it a reality, Darlene now conducts spiritual healing ceremonies with the traditional swing.
She is a mother of two and is a part time employee at the Nechi Training, Research & Health Promotions Institute located near Edmonton, Alberta.
Darlene's Stories
The following is a list of Darlene's stories and a short description.
1
A Vision Of Healing
Darlene talks about a vision she had for healing our communities and our people.
2
The Traditional Cree Swing
Darlene discusses the healing power of the traditional Cree swing.
3
A Healing Therapy
Darlene talks about how she uses the Cree swing to help others in communities across Canada.