Home > The Stories > First Nations Stories > Darlene Auger

Our Stories: First Nations Stories | Métis Stories | Inuit Stories
The Traditional Cree Swing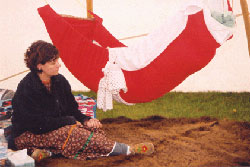 Darlene Auger and her swing (audio only).
Story: << 1 2 3 >>
Download:

At the first gathering of the Residential School Healing Gathering, there were people there that were mostly there because they had gone to a residential school. But, since then I've been swinging other people. I believe anybody can benefit from the swing whether it be just for relaxation purposes, possibly healing from past pain and hurt - anybody that's been through trauma, for example, sexual abuse. I've been invited to swing people at the Sexual Abuse Healing Conference in Edmonton in February. So I believe anyone can heal from it, from young babies to very senior elders.
Darlene's Stories
The following stories are by Darlene Auger.
1
A Vision Of Healing
Darlene talks about a vision she had for healing our communities and our people.
2
The Traditional Cree Swing
Darlene discusses the healing power of the traditional Cree swing.
3
A Healing Therapy
Darlene talks about how she uses the Cree swing to help others in communities across Canada.