Home > The Storytellers > First Nations Stories > Darlene Auger

Our Stories: First Nations Stories | Métis Stories | Inuit Stories
A Healing Therapy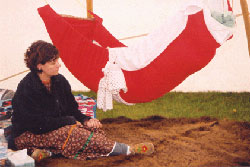 Darlene Auger and her swing (audio only).
Story: << 1 2 3
Download:

Yes, I am able to do that. Although, the community is required to pay for my travel expenses, my meals and accommodations.
Some communities have provided an honorarium and that's really appreciated, but it's not necessary. Yes, I am able to travel long distances. I'll be going out to Northern Ontario by the Quebec border to a small community there to swing people. I'm very excited about doing that.
The other thing that people sometimes ask is if I need to have a tipi to set up a swing. That's not necessary either, although that is the best situation, the best environment. In the summer time, I'll probably be doing that more. However, in the winter time, I could set up the swing inside a building or inside the house. I do now have a frame that I can use, that I can take with me to set up the swing anywhere.
Darlene's Stories
The following stories are by Darlene Auger.
1
A Vision Of Healing
Darlene talks about a vision she had for healing our communities and our people.
2
The Traditional Cree Swing
Darlene discusses the healing power of the traditional Cree swing.
3
A Healing Therapy
Darlene talks about how she uses the Cree swing to help others in communities across Canada.