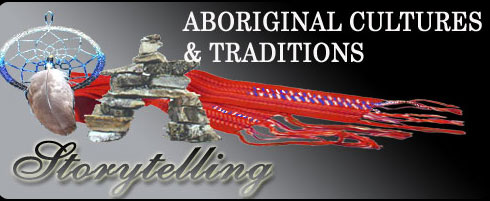 Welcome to the Aboriginal Cultures and Traditions Storytelling web site.
Storytelling has always been a vital part of the cultural identity of the Aboriginal peoples of Canada. Stories were told to teach lessons, give warnings, and keep history alive.
Imagine the richness of a culture that used stories not only to entertain, but to teach. Stories could bridge the gap between generations and transport the young people to a place that they might never experience for themselves, just as T.V. or movies do today.
The stories found in this collection were gratefully collected from the First Nations, Métis, and Inuit peoples of this country. Collectively identified by Indian and Northern Affairs Canada as "Aboriginal," each group self-identifies as separate peoples with unique heritages, languages, cultural practices and spiritual beliefs.
This project is funded by Industry Canada and is a pilot project of the Aboriginial Digital Opportunities and the Aboriginal Youth Network.
This digital collection was produced with financial assistance from Canada's Digital Collections Initiative, Industry Canada.

About Us | Credits | Copyright
Welcome | The Storytellers | The Stories | Site Map