Home > The Storytellers > Métis Storytellers > Marge Friedel
Our Storytellers: First Nations Storytellers | Métis Storytellers | Inuit Storytellers
Marge Friedel's Biography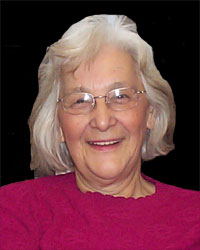 Marge is a Metis elder from Edmonton, Alberta. She is a student elder and leader at the Amiskwaciy Academy High School. She comes from a long and proud family of Metis.
She is very humble and kind to the people around her. She tells a about her family and how they were very much involved in the fur trade and the development of the area around St. Albert, Alberta.
Marge's Stories
The following stories are by Marge Friedel.
1
The Metis Community
Marge talks about what its like to be a part of the large Metis community.
2
A Colourful Crowd
Marge tells a memory she has of decorating horses with beautiful colours.
3

A Big Family
Marge talks about being related to many people in one area as part of the Metis commuity.


4

Lake Saint Anne
Marge talks about the tradition of Lake Saint Anne.