Home > The Stories > Métis Stories

Our Stories: First Nations Stories | Métis Stories | Inuit Stories
Métis Stories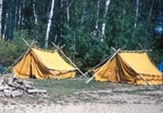 Based on the stories of the Métis people, these are tales full of meaning and heart. They tell about their First Nations and European ancestry in a manner signifying their identity as mixed-blood people. A nation born of European settlers and the original inhabitants of this country: the Métis are the result of bringing together of two vastly different cultures. Sometimes known as the "people of the fur trade" (for their major involvement in the early fur trade era) the Métis played a major role in the development of western Canada as voyageurs and interpreters to the First Nation people.
Although recognized as a distinct and separate people by the Canadian government, Métis people, with the exception of Settlements in Alberta, have no land base to speak of. However, they claim the Red River area in Manitoba as their "homeland."
Spoken throughout Métis communities is a language of their own design known as Michif. A combination of French and a First Nation language, Michif can vary widely depending on your location of residence.
Métis people have a proud and beautiful culture, made up of two other cultures mixed together.