Home > The Storytellers > First Nations Storytellers > Warren Winnipeg
Our Storytellers: First Nations Storytellers | Métis Storytellers | Inuit Storytellers
Warren Winnipeg's Biography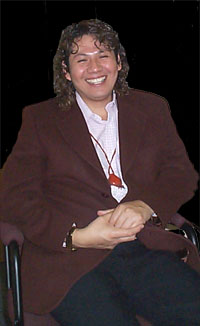 Oki Napi, (Blackfoot)
Warren Winnipeg is from Siksika Nation, in Alberta. In 1998, Warren became the National Native Role Model for Alberta.
Warren works extensively with First Nation communities across Canada, and has served for various committees for youth and community development. He has worked in various treatment centres for addictions for approximately 8 years (such as Detox, Residential Treatment, and Outpatient). In addition to healing, he was the former Team leader for Siksika Healing and Wellness Centre.
Warren graduated from Mount Royal College in 1996, majoring in Social Work, and is currently enrolling into the degree program for social work.
Warren states, "I really enjoy traveling and meeting new people. I am enthusiastic about youth and healing."
Warren now resides in Edmonton, Alberta and is currently a new trainer for Nechi Institute.
"May you walk in Beauty."
Warren's Stories
The following stories are by Warren Winnipeg.
1
A Career In Healing
Warren talks about his experience working in the health field at various organizations.
2
Faith In Family
Warren talks about his recent experience with his grandmother.