---
The George Back Collection was digitized by the Grade Ten Class of Echo Dene School in Fort Liard, Northwest Territories, Canada. We wish to thank the National Archives of Canada and Schoolnet for the opportunity to present this project.
La collection de George Back a été numérisée par la classe de 10e année de l'école Echo Dene située à Fort Liard, dans les Territoires du Nord-Ouest, au Canada. Nous tenons à remercier les Archives nationales du Canada et Schoolnet de nous avoir permis de réaliser ce projet.
---
Thanks as well to Nadia Kazymyra, Eva Major-Marothy and many others from the National Archives of Canada.

Merci aussi à Nadia Kazymyra, à Eva Major-Marothy et à de nombreux employés des Archives nationales du Canada.
---
Echo Dene School is located in Fort Liard, Northwest Territories. This area has been occupied for over nine thousand years and is known for its milder northern climate. Wood bison roam free near the community, as do animals such as moose, bears and wolves. Visitors are attracted to this area by the Nahanni National Park as well as the northern landscape.
L'école Echo Dene est située à Fort Liard, dans les Territoires du Nord-Ouest. Cette région est habitée depuis plus de 9 000 années et se distingue par un doux climat nordique. Des bisons des bois, des orignaux, des ours et des loups se promènent librement prés de la communauté. Enfin, le parc national de Nahanni et le paysage du Nord sont autant d'attractions pour les touristes.
---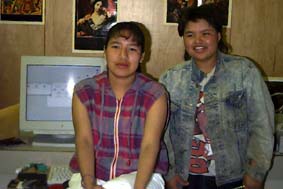 Beverly Timbre and Francine Kotchea (shown above) along with Sheila Klondike and Leo Ehrenberg digitized the George Back Collection.

Beverly Timbre et Francine Kotchea (voir ci-dessus) ainsi que Sheila Klondike et Leo Ehrenberg ont numérisé la collection de George Back.
---


---