The Architecture of Etienne Gaboury
"We are famous more for our humanism than for our brilliance," says Leon Whiteson of Canadian architecture. "No innovators, we are best at domesticating borrowings from more fervently original cultures. The archetypal images we so imaginatively fuse are usually dreamed up elsewhere. This is a general truth applicable in most regions of Canada, with one possible exception - the Prairies." [Whiteson]. The richness Whiteson identifies in Canadian prairie architecture is a fusion of imagination and necessity; the flat expanses of plain "prompt[ing] an architecture of powerful silhouettes. . . [an architecture] that requires poetic sensibilities," [Whiteson] while the harsh realities of nature demand of the architect a fundamental adaptation of his design to the primal forces of the world.
It is from this axiomatic geographical inspiration that Etienne Gaboury has drawn his strikingly distinctive designs. Recognized as one of the most innovative and challenging Canadian architects of the last half-century, Gaboury has yoked a host of diverse influences to his own powerful originality and intensely personal vision of architectural possibility. His philosophy of regionalism has sought to re-establish the primacy of artistic initiative, cultural expression and environmental specificity in a medium dominated by deadening expediency. In his numerous religious, governmental, and civic projects, Gaboury has proven that brilliance and humanism need not be mutually exclusive and that Canada, as much as any region in the world, is a perpetually fertile inspiration for powerfully distinctive architecture.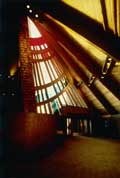 This digital collection was produced with support from Canada's Digital Collections Initiative, Industry Canada.
* * *